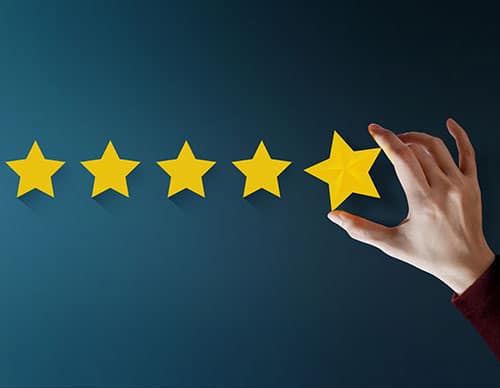 Many users have recently noticed that their Google Business Profile local reviews are no longer visible. Users are leaving reviews, but they are not being published. If you go to the Google Business Profile Forum, you'll find a long thread of user complaints about the problem. A Google spokesperson responded in a recent statement that:
"Google employs automated spam detection methods to remove reviews that are most likely spam." Although legitimate reviews are occasionally removed inadvertently, these spam prevention measures help improve people's Google experiences by ensuring that the reviews they see are authentic, relevant, and useful.
In other words, reviews are being scrutinized by a filter algorithm to ensure they are genuine. So, what's the deal with your reviews being missing? Let's look at the most common reasons why your Google Reviews are being flagged or may not be showing up.
WHY ARE YOUR GOOGLE BUSINESS PROFILE REVIEWS MISSING?
Google has strict review policies in place. These rules specify what your review may and may not include, who may write a review, and what content is prohibited or restricted. It's also possible that there are issues with your Google Business Profile that are preventing your reviews from appearing. Google, like legitimate reviews, wants honest business profiles that meet its criteria.
Here are some of the most common culprits that could be preventing your reviews from being displayed:
1. THE REVIEW INCLUDES A LINK OR A PHONE NUMBER
If your review contains a URL or phone number, it will be flagged as violating Google's policy and will be removed. Because Google does not want people to use reviews to build links, URLs are not permitted. If a user's response to a review contains a link, Google will also remove it.
2. THE REVIEW IS NOT ORIGINAL.
Writing a review for your own company or having all of your employees write reviews is considered biased and will result in a warning. It is also a violation to request or post reviews from customers in bulk or to financially incentivize users to leave a review.
Because Google prefers genuine reviews, fake reviews (also known as astroturfing) are a major issue. If the same review appears on other sites such as Yelp or Bing, it will be flagged as well. If the user who left the review does not live in the vicinity of the business, it will be flagged as spam. Lastly, the same review may not be posted by multiple accounts owned by the same user.
3. GOOGLE BUSINESS PROFILES THAT ARE INACCURATE OR DUPLICATE
Duplicate listings can occur for a variety of reasons. You could have previously created a profile and forgotten about it when you registered for a new one. You could also have tried to create a copycat on purpose. In any case, Google may remove reviews from your current profile and transfer them to another profile that you may not even manage. The good news is that these problems are easily resolved by contacting Google's support staff and claiming/merging the Business Profiles.
Another possibility is that the information on your profile is inconsistent or inaccurate. Google prefers that all listings be identical in order to prevent customers from receiving inaccurate information about your company. Furthermore, Google may penalize your inconsistencies by limiting the number of customer reviews you can receive. Acronyms, abbreviations, and name variations are common sources of incorrect information. Here are some examples:
Business Name: XYZ Realty Group vs XYZ Real Estates
Acronyms: X.Y.Z. vs. XYZ
Abbreviations: Blvd vs. Boulevard
To resolve this issue, go to your Google dashboard and select the "info" section from the navigation panel. You can then make the necessary changes to update your information.
4. YOUR BUSINESS PROFILE IS COMPLETELY NEW
Google will pay special attention to vetting your reviews if you have recently created a Google Business Profile. To put it another way, your profile will be monitored during a probationary period (known as sandboxing) to ensure that you are a legitimate business. Yes, it can be aggravating, and it can last for weeks or months. But it's only for a short time. Google will initially allow up to five customer reviews and will gradually display more reviews once they believe your profile is genuine.
If you add a new location, your reviews may also be flagged. If your company was heavily reliant on its original location, Google may not automatically transfer your reviews. If this is the case, you must contact Google's customer service team and provide them with the necessary information about your new location. You might also need to update your profile.
5. YOUR GOOGLE BUSINESS PROFILE IS DEACTIVATED
You could be trying to resurrect an old business profile, or your profile has been dormant for a long time. Google has revoked your profile when you finally decide to revive it. Your profile will not appear in Google Search or Maps unless you verify it, which means customers will not be able to see your reviews. Google will make an attempt to contact you via email before revoking your account. However, if you did not receive or ignored this email, you must contact Google to have your profile verified.
6. THE REVIEW IS INAPPROPRIATE
If the review contains vulgarity, defamatory statements, spam, explicit content, profanity, a racial term, or any other prohibited content, it will be flagged. In other words, if the review is insulting or offensive, it will be removed.
7. CONFLICT OF INTEREST
If Google discovers a conflict of interest in the review content or from the user, the review may be removed. This includes the following:
Leaving a review for the company you work for
Posting a review about a current or previous job experience (including employees who were terminated with rightful cause)
Posting content about a competitor in order to influence their ratings or search ranking
8. Influx of reviews within a short period of time
Businesses should strive to generate reviews on their Google Business Profile organically, which means a consistent cadence of new reviews is generated each month.
If you go 10 months without receiving a review and then suddenly receive (say) 25 reviews, your Google reviews may vanish.
9. The review was written within your office or from a location that was too far away.
Google is clever. It identifies a user's IP address (telling it exactly where the review was left from). If a review was posted from within your office, Google may remove it. If you serve local customers and a review is left by someone from another state, Google may remove it.
10. IMPERSONATION
Reviews left on others' behalf using a different Google account will be removed. Google also reserves the right to remove content, suspend accounts, and/or pursue legal action against review contributors who falsely claim to represent or work for Google.
11. CONTENT WITH RESTRICTIONS
Google reserves the right to remove your Google reviews if they contain restricted content like offers/discounts/call-to-actions to sell alcohol, gambling, tobacco, guns, health and medical devices, pharmaceuticals, financial services, and adult services. This is not an exhaustive list, and Google reserves the right to use its discretion in determining whether to remove a review.

Restricted content also includes the following:
Links to purchase restricted goods and services via landing pages
To purchase restricted goods and services, use email addresses or phone numbers.
Promotional offers on a limited number of goods and services
Not all accidental promotional content, such as restaurant reviews and menus, is considered a violation of Google Business Profile's policies.
Conclusion
Online reviews are critical to the success of your company and reputation. The vast majority of flagged reviews are fake or spam, and you don't want those on your profile to begin with. Unfortunately, reclaiming your vanished Google reviews isn't as easy as it sounds, and there's no guarantee they'll ever return. According to Google's own documentation, missing reviews that were flagged for policy violations are not eligible to reappear on your profile. If you notice any missing reviews, first go through this list of potential issues and resolve them.
To bring your case to Google and (possibly) get your reviews back, our YLOPO GMB Team experts recommend submitting a Google Business Profile support ticket. If we already manage your Google Business profile, we can save you time by representing you while we communicate with Google support.
Furthermore, we can assist you in improving your reviews or any other aspect of your company's online reputation. Please email us at LSA@YLOPO.COM